They are small, can be carried in your hand or pocket and were an important part of the industrial revolution: miniature oil cans! Often made of tin measuring about 2 – 3 inches or 5 – 7 cm and quite ornate in some cases. Now obsolete but also very collectable and they do not take up a lot of room and there are many different ones to hunt for.
Thumb oilers background
These miniature oil cans shown below measure about 5 cm or 2 inches in diameter (bottom part). They were ment to be held in the hand easily and operated by a little squize. The 5 below were operated by lightly pushing on the thin tinplate bottom. Therefor these are also know as thumb oilers.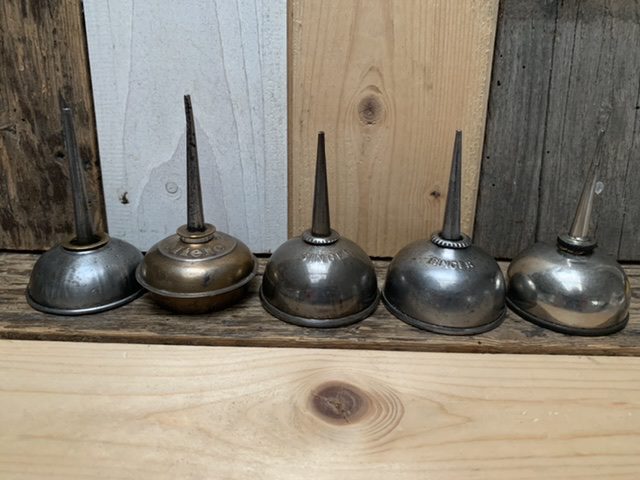 These thumb oiler were the industry standard. You can put them upright without leaking. The hole was so small it would not allow for dirt to travel in and you could always find them. The snout screws off to refill. Very easy indeed.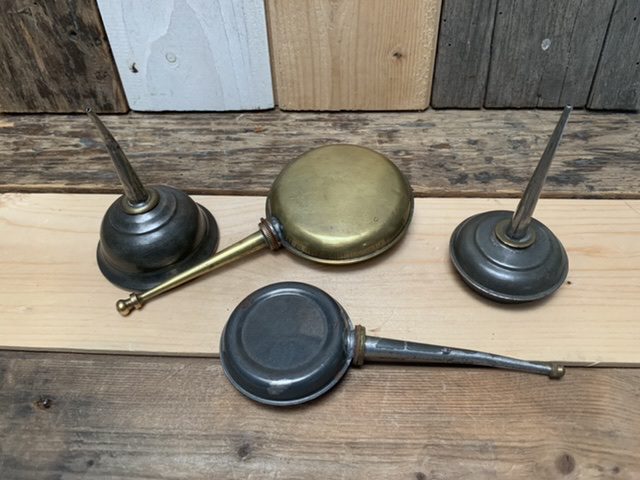 Miniature oil cans in practical use
These oiler were made for practical used on all early mechanical items like skates, typewriters, motors & bikes, sewing machines and everything else witch got motorized early in history like kitchen supplies, washing machines, etc. This did also ask for a more practical oiler that could be carried with you, without leaking and without being bulky. This is where the ones below come in. These small oil cans measure about 7,5 cm or 3 inches in height, are a bit more ornate and have a screw down top so they do not leak.
Very specific tasks
Most oil cans are generic and do not have a stamp or brand besides sometimes a mark of the maker (not very common). There were oil cans with a very specific task or at least sold with a specific task in mind. The small bottle below was specially made for typewriter oil and the top functions as a miniature oil can. The small bent in the snout of the one on the right gives extra access to inconvenient reachable places like type writers.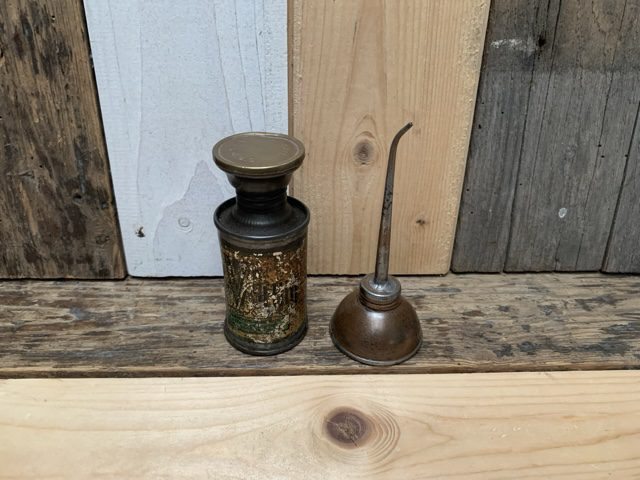 Below are 3 branded thumb oilers. Singer is know for the sewing machines and these were probably provide with the purchase of such a wonderful but costly machine back in the 1930-1950's. The one branded Miele could have been for one of the many products the German Company manufactured pre 1950. Now best know for the washing machines they also made cars and motorized bicycles as well as many other small mechanical and motorized machines.