Vintage diver equipment
When look for quality, this is often found with items that have to reliable in their use. For instance watches have to be very precise in their timekeeping and carpenter hand tool have to endure under great stress of high usage. Other equipment like those used by the armed forces or fire fighters, have to be extra strong and function under all possible circumstances. But this article focusses on vintage diver equipment!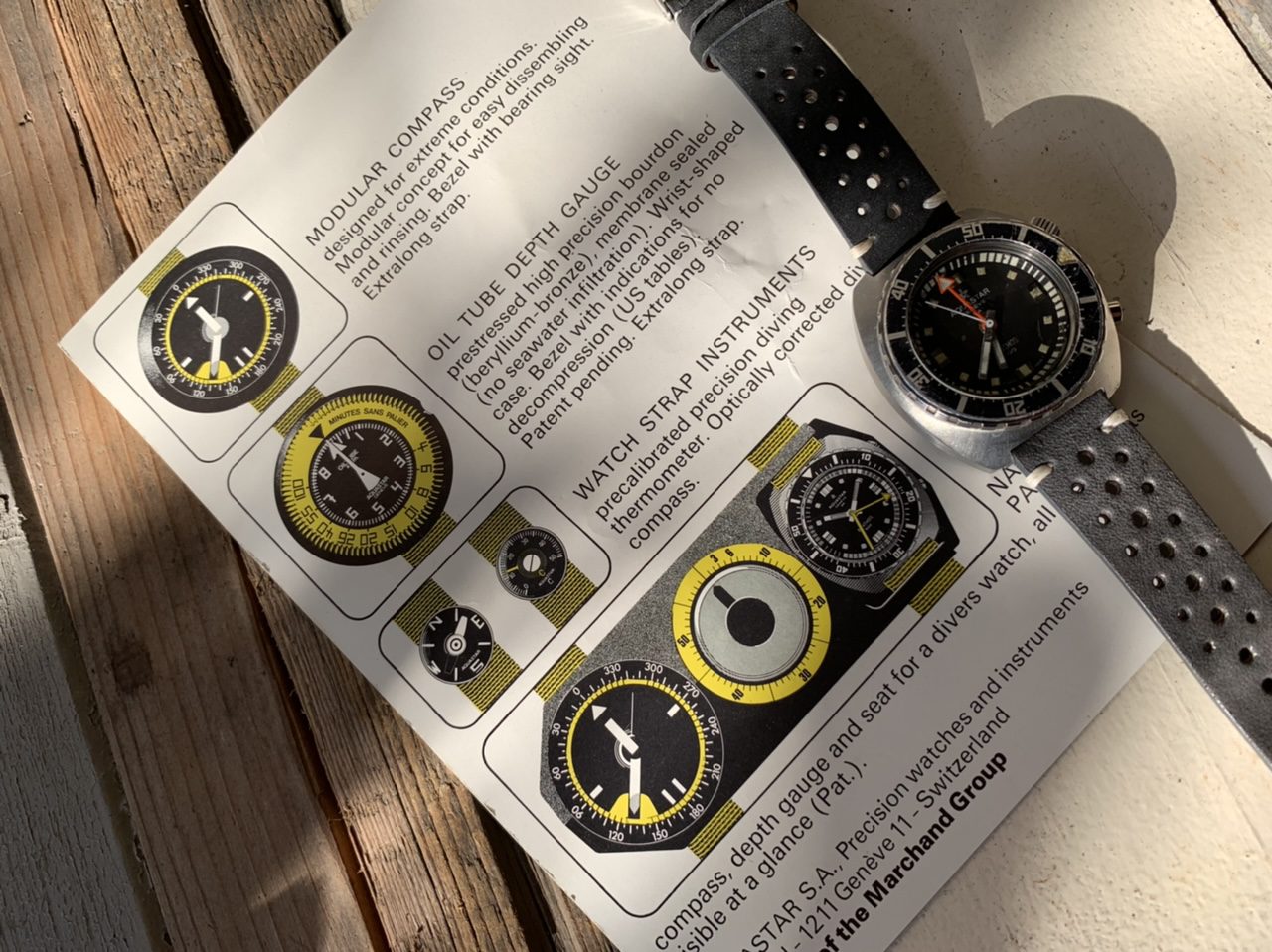 Items that have to be waterproof and reliable because the life of the diver depends on it! When underwater you need a compass to guide your way through murky waters and a depth gauge to know your rate of descend and assent to be able to avoid acute decompression syndrome aka Caisson's disease. Vintage divers watches are therefor much sought after specially from brands like Aquastat (see picture above), Doxa (300T series for Jacques Cousteau), Omega (Proplof), Rolex (submariner and Deepsea) and Seiko (62MAS, 6215, 6105, etc) come to mind.
Professional diver equipment
The vintage diver equipment that is collectable today is mostly the high end of equipment available. Mostly as used by the professionals like military divers and marine explorers. These are the real professionals, guys that are as much in the water as besides it.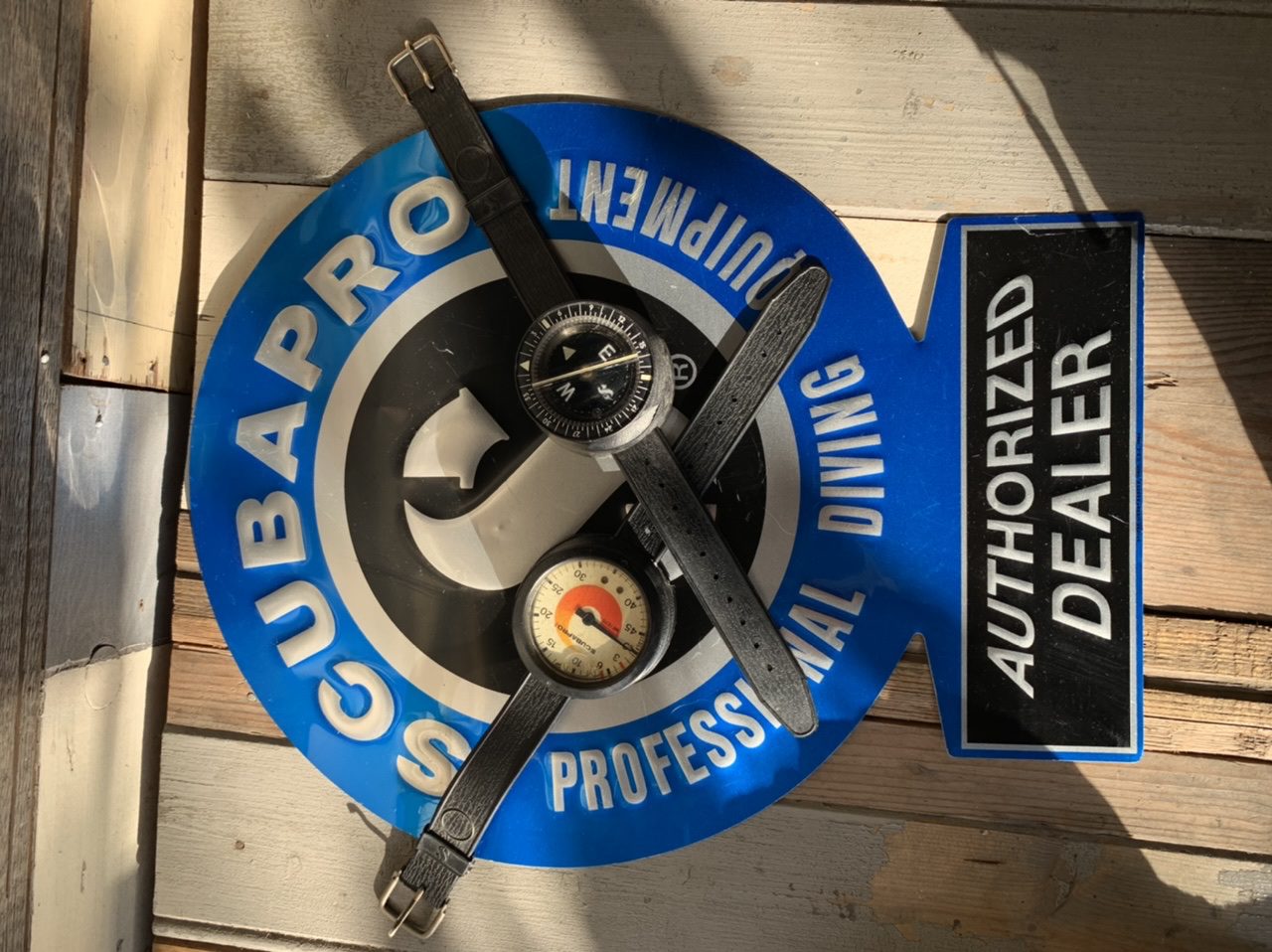 But for serious vintage diver equipment like the wrist compasses and depth gauges / depth meter, the companies are Suunto, Spirotechnique and Scubapro. These brands often provided a wide range of equipment or in some cases the focused specifically on these wrist gems as shown in this article.
The evolution of vintage diver equipment
When collecting different pieces of wrist compasses and depth gauges, it's evolution becomes obvious, just by holding them or fitting them to your own wrist. They vary in readability and size as well as the ease with which they can be strapped to your arm. The evolved through time with every new invention. Below you see some pictures and close ups to make this more clearly.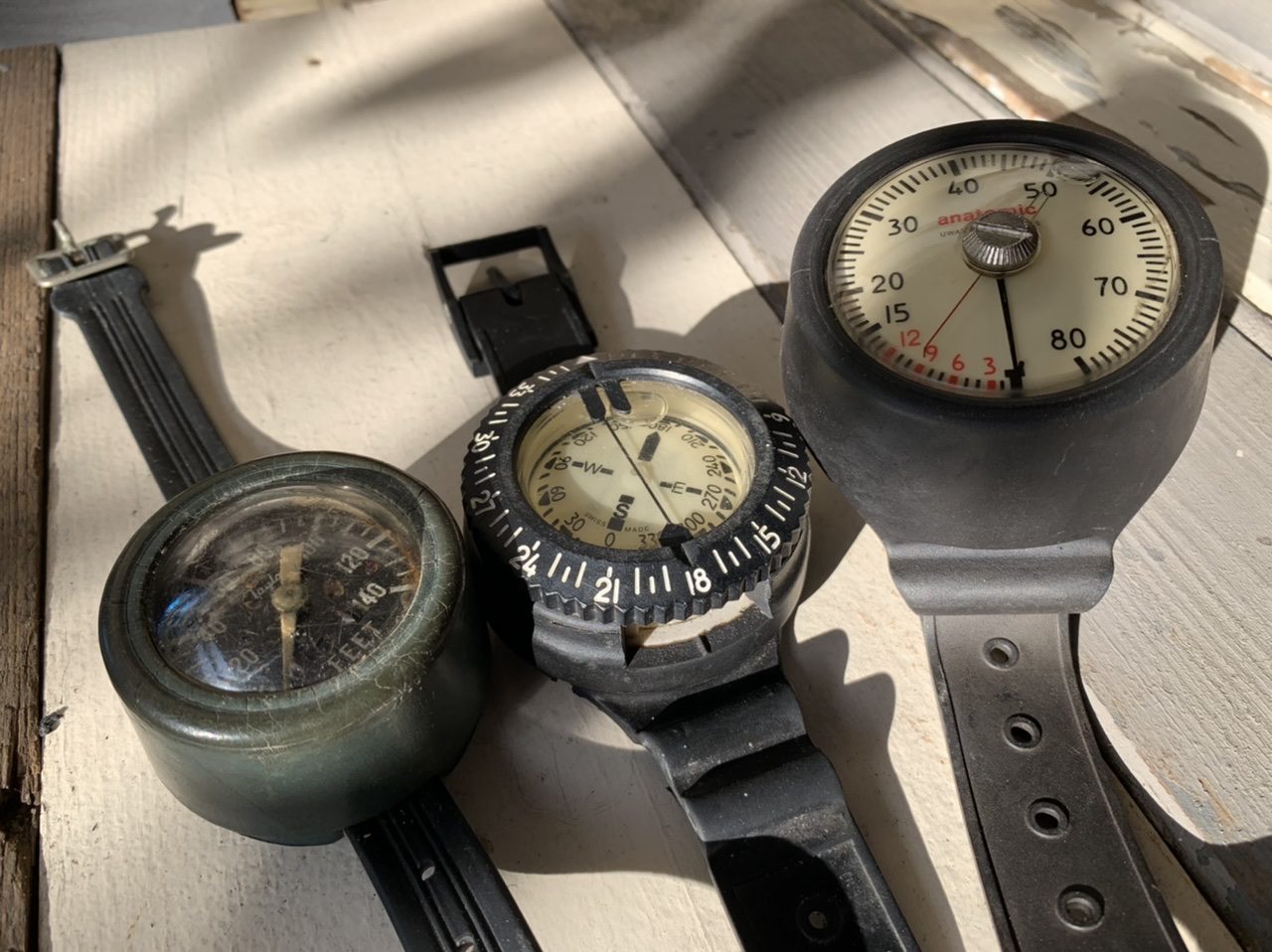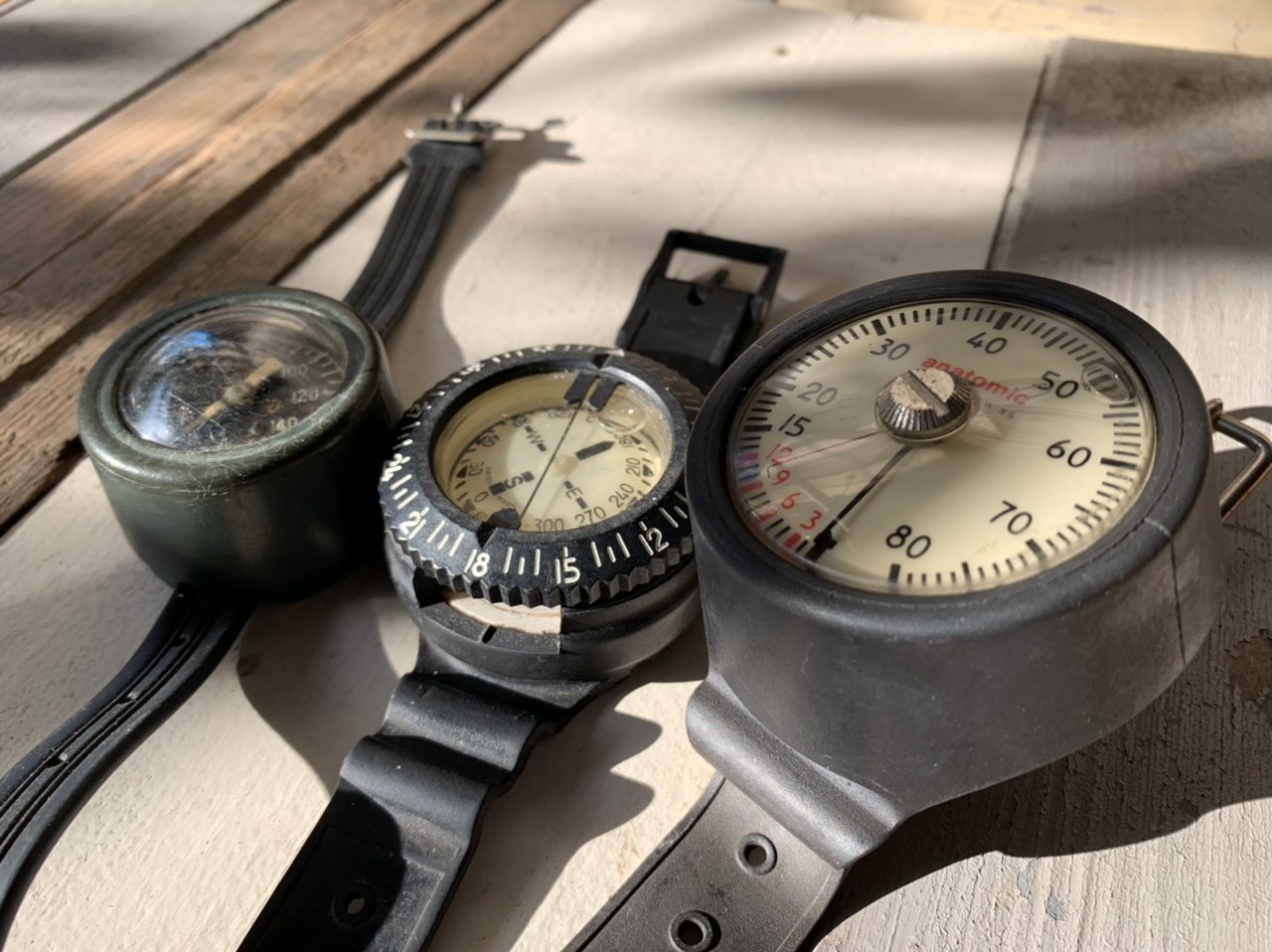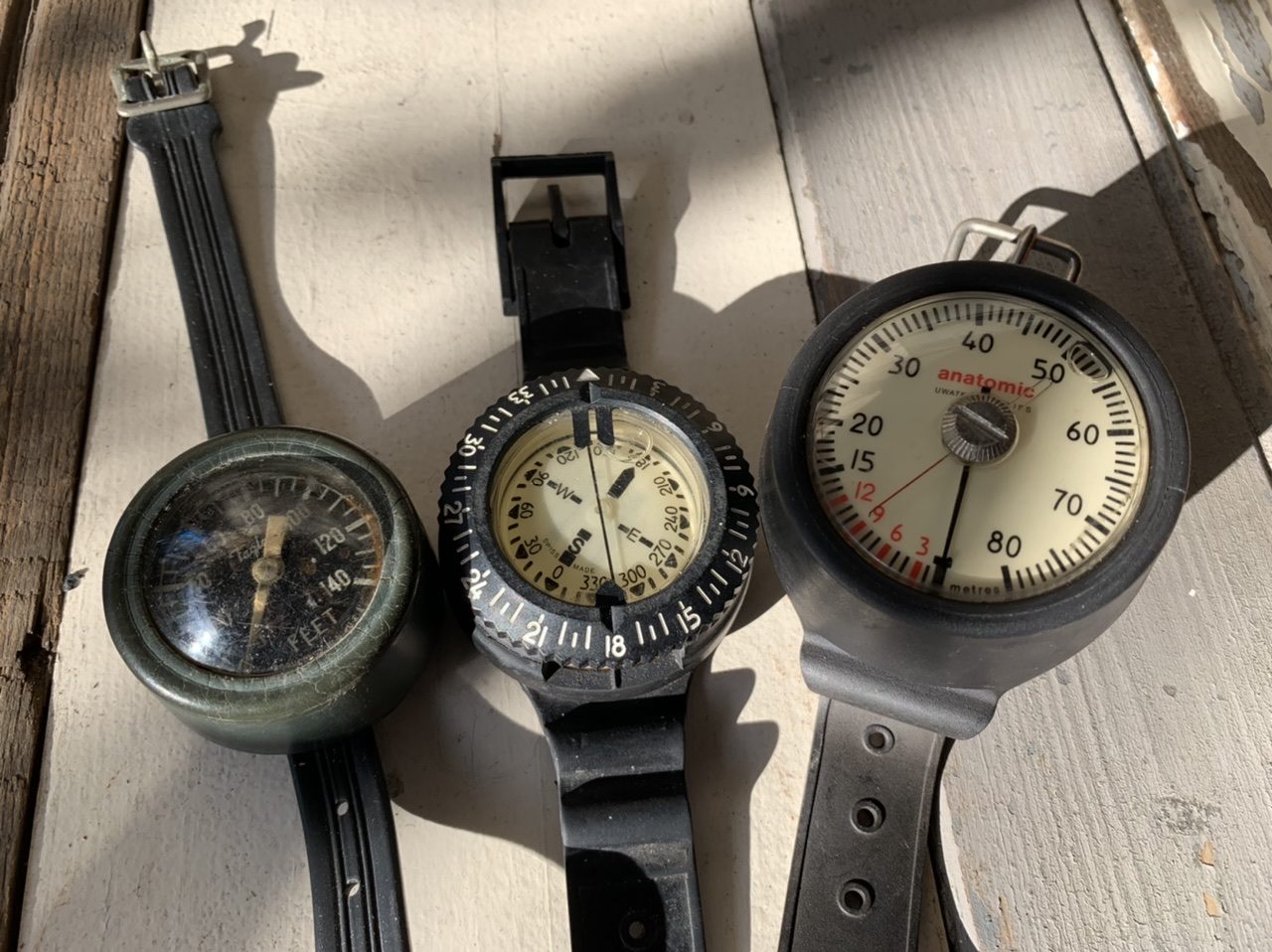 I do not go into the differences in detail her, this is for you to find out..the fun of collecting. But take a good look at the materials used, the special features it has and how sleek or clumsy the look…and then go back in time in your own mind. Look at the items and keep in mind this was made with the best technology available at that time since they were made to keep divers safe!
Different makers from around the world
In a time that the world was a lot bigger sometimes same inventions where made a world apart. There were different people getting into the development of diver equipment once normal humans start to conquer the see…for fun.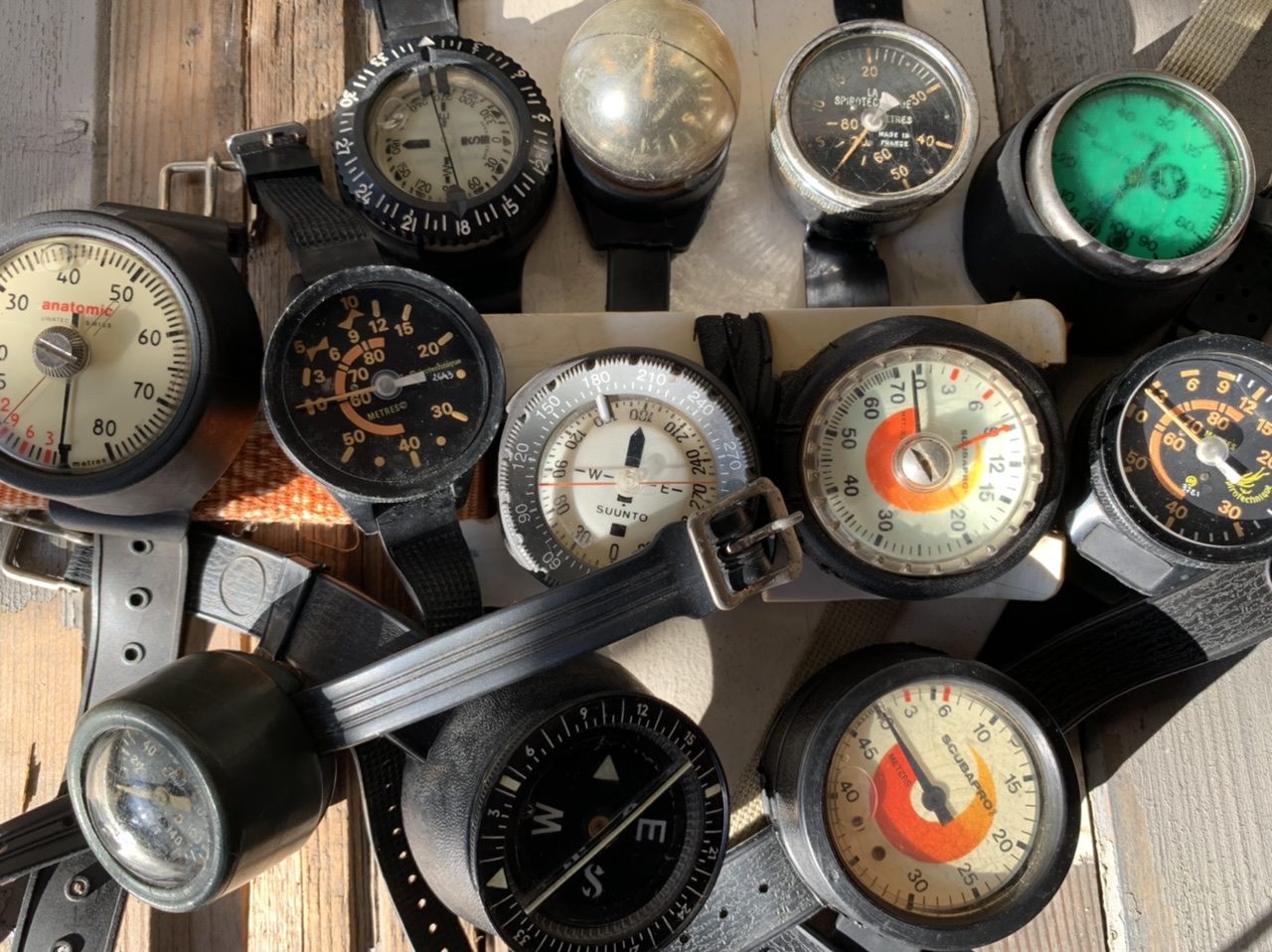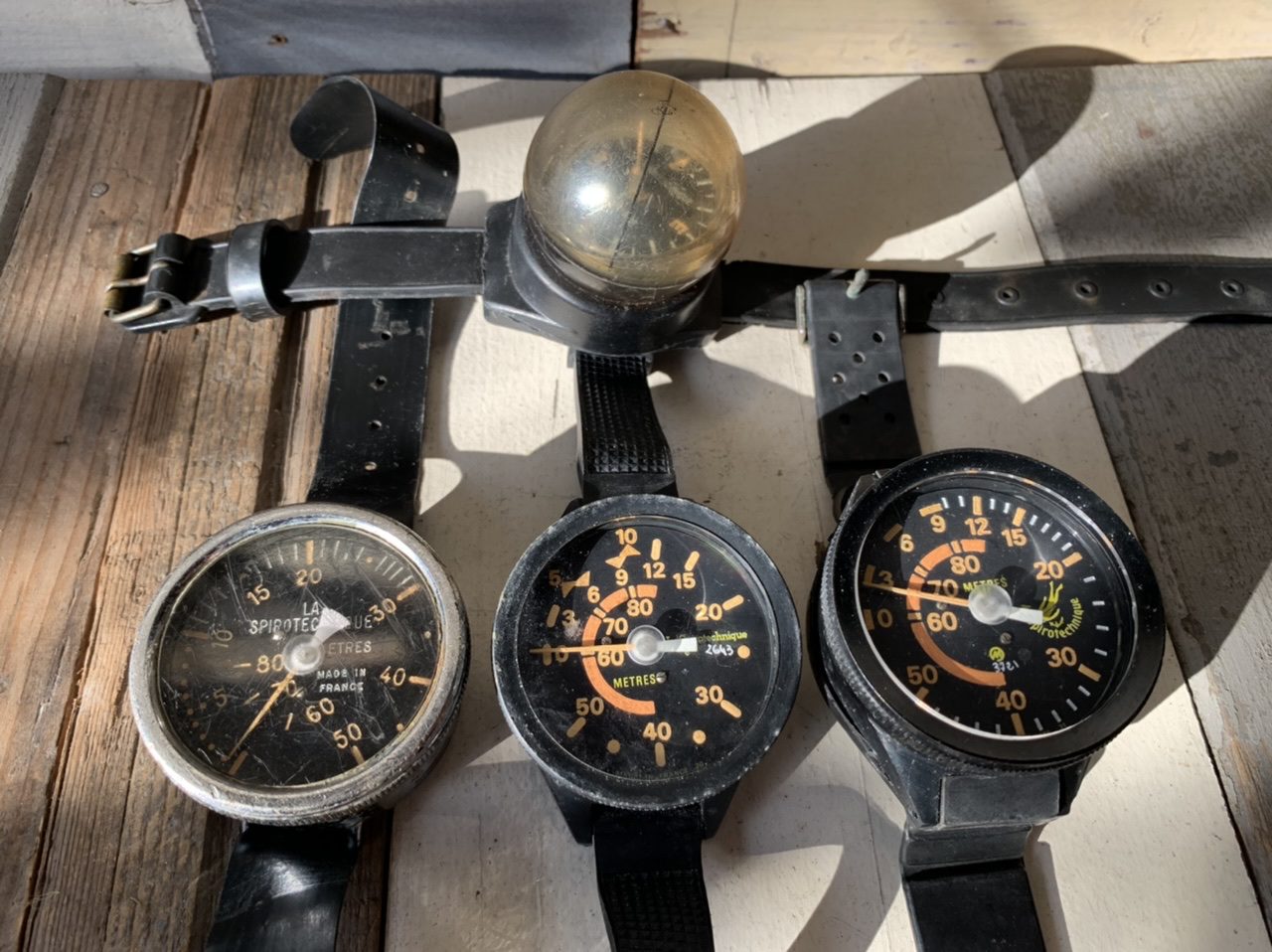 La Spiroteque – made in France
In 1946 the company Air Liquide founded La Spirotechnique, its own division for buiding state of the art regulators and other diving equipment. The range included the Aqualung / CG45, the first modern regulator to be commercialized which made scuba diving available to the masses as a hobby. La Spirotechnique continued manufacturing an entire array of newly designed diving apparatus for the European marketplace. In the United States, U.S. Divers-Aqualung took over those responsibilities and in Canada it was managed by Canadian liquid air. At some point La Spirotechnique used the word Aqua Lung to change its name, or to use it as an alternate name. Nowadays U.S. Divers Company is known as Aqua Lung America. You can find them at Aqua Lung/La Spirotechnique, which is still based in France and has its international branches around the world.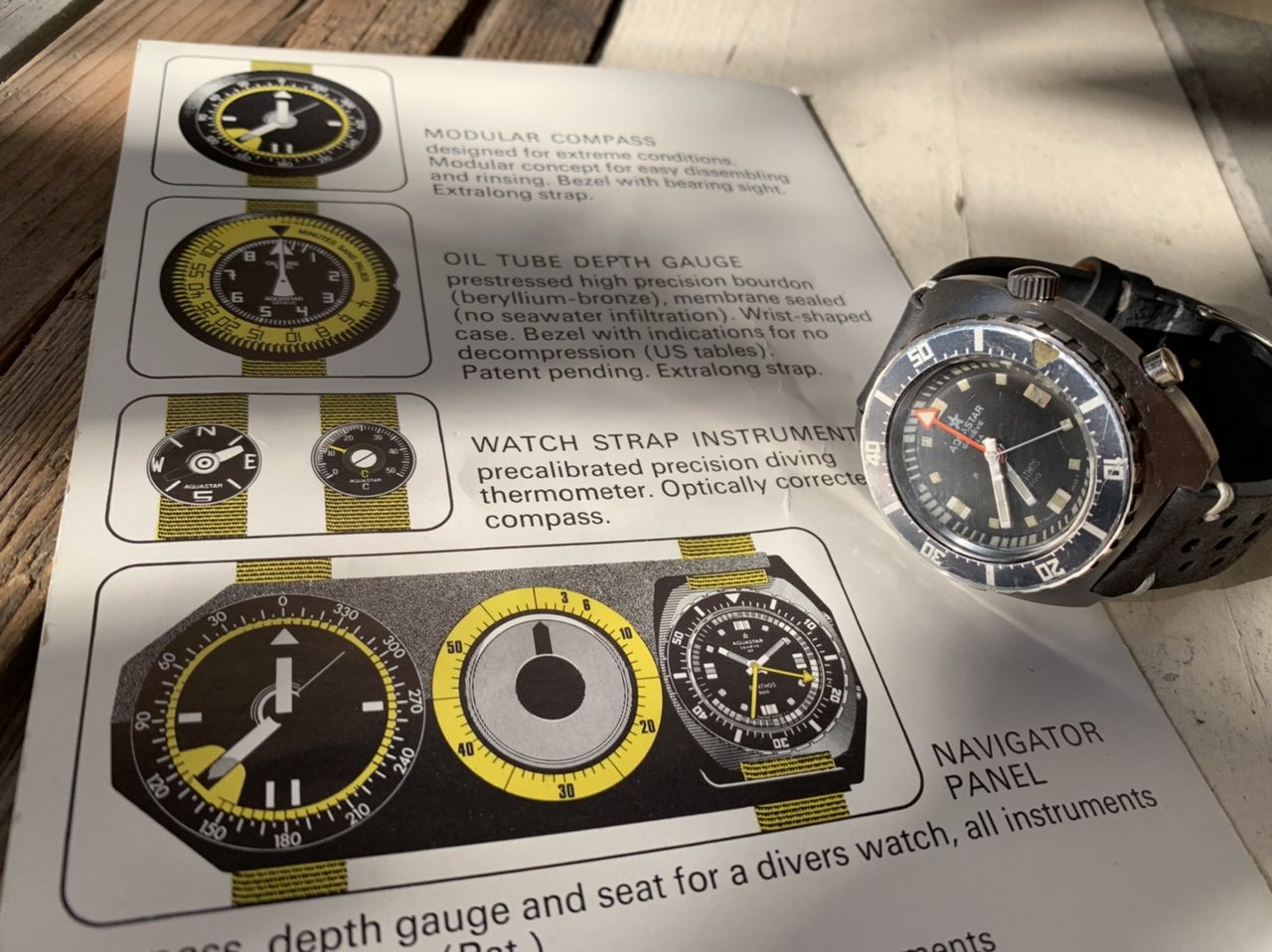 Scuba Pro – Made in the USA / Italy
In 1963 in the United States of America, Gustav Dalla Valle (importer of Cressi and Beuchat dive equipment) and Dick Bonin (a US Navy SEAL officer) founded the Scubapro Company. Scubapro would get known for spending more money on research and design than any other company. They hired the best engineers and test divers  to test and ensure their products of performance and durability. Besides in the USA, a part of the R&D and manufacturing took place in Italy. The company made a broad range of diving equipment besides wrist compasses and depth gauges. Scubapro merged with dive computer manufacturer Uwatec in 1997 and became part of Johnson Outdoors. The company, now known as "Scubapro Uwatec", currently still manufactures scuba diving equipment, you can find them at scubapro.com.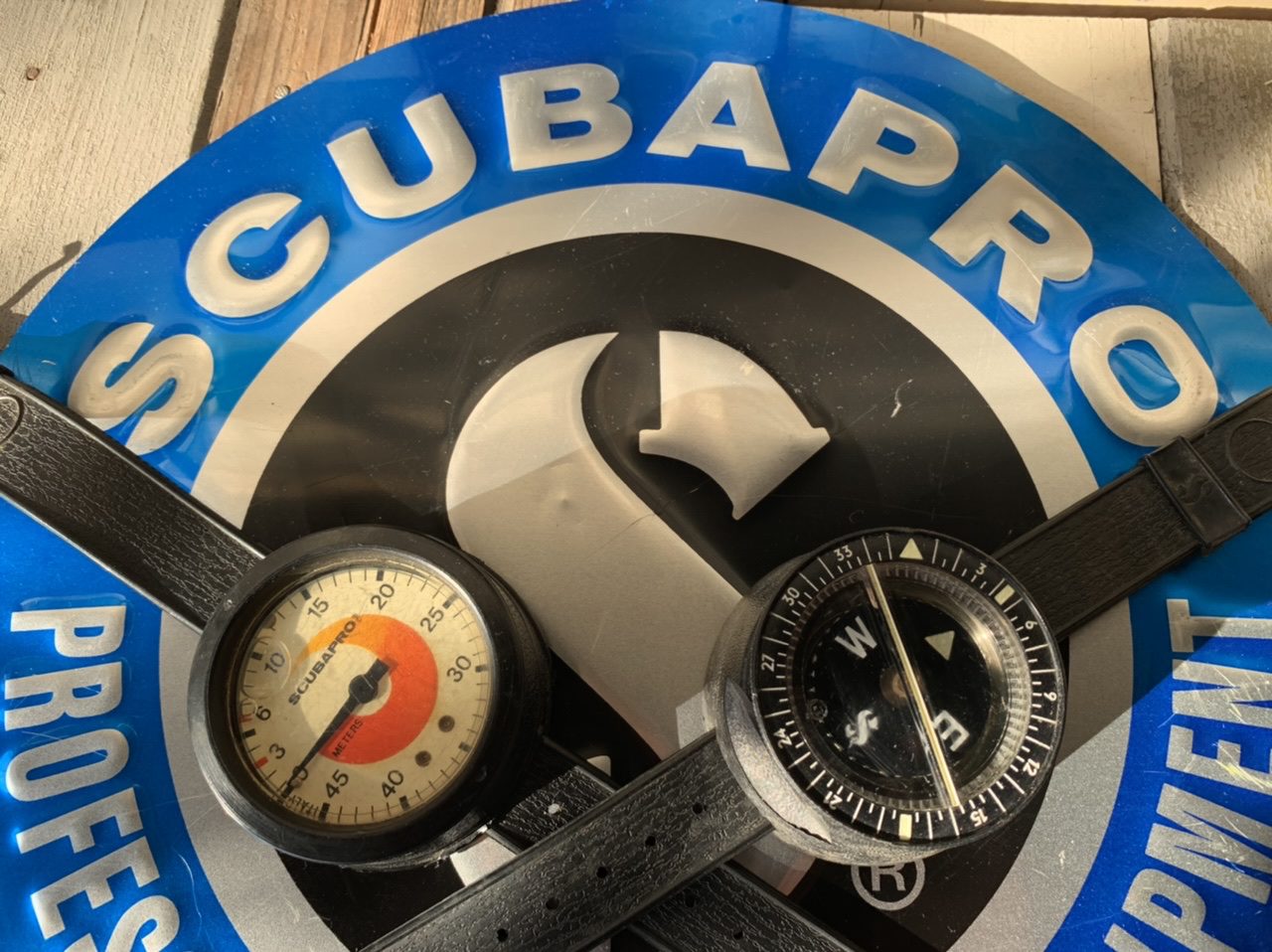 Suunto – made in Finland
Suunto was founded in 1936 by a Finnish adventurer, called Tuomas Vohlonen. He was not satisfied with the technology available at that point so he set out to invented a more accurate compass. He patented this in 1935 and it went into mass production, it was also later adopted by the Finnish Army. During the war period, Suunto developed a sighting compass for measuring the azimuth to be used by army officers.
After the war the company grew rapidly, selling various navigational instruments, including divers equipment to both civilian and military markets. The ownership of the company changed hands a few times during its existence but this did not distract from the focus on making reliable and durable equipment. In 1987 the first dive computer was introduced, so divers no longer needed to use dive tables which revolutionized the sport. You can find them here: Suunto is still based in Finland today, still focussing on their heritage and providing the same equipment only better. Some of their products below.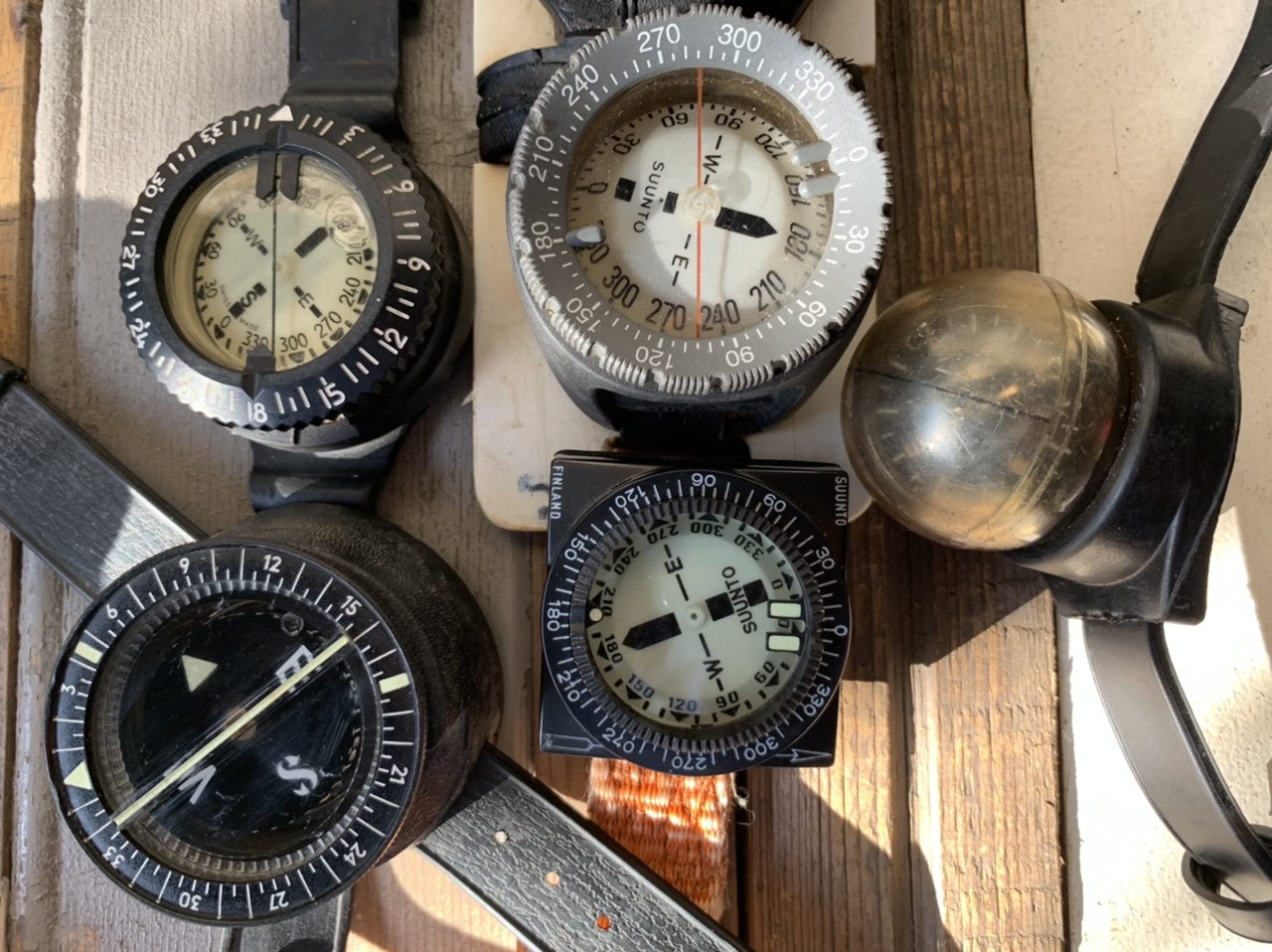 Have fun looking into and collecting these great pieces of vintage diver equipment. Pieces with a great quality and often an even better story! If you found this be a nice read do check out some other light reading or visit the reference to vintage stuff.