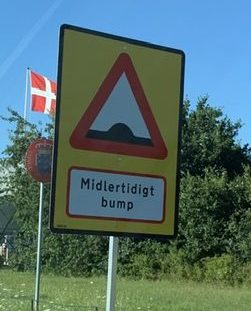 I was actually  wondering if it would be possible to pick up some vintage items in Denmark. We were lucky enough to find a beautiful home in the middle of Denmark about a 1,5 hour drive from the German border straight up!. On the right side my very first Danish word "Midlertidigt" meaning bump in the road. A word that did not help me much on my search and discoursed me to try and learn a lot of Danish since their language did not seem to line up well with my knowledge of German and Dutch.
Fortunately I was looking for items with international brands like Bang & Olufsen, Georg Jensen, Jacob Jensen, Bodum and Diwa. So the language would not be that much of a problem. The Danish are nice people and most of them do speak some English. They are accustomed to the casual tourist as well…so all good from the start and no midlertidigt in sight.
Vintage stores everywhere in Denmark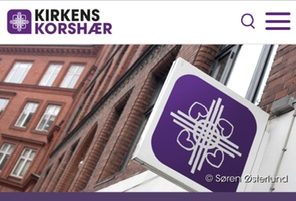 After some quick inquiries I learned that there is quite a culture of reusing and second hand stuff. Even though there are Red Cross stores, there are also individual stores. Yet the biggest chain of stores is called Kirkens Korshær, roughly translated to Church Crusaders. They have ca. 250 stores all over Denmark so almost every larger city has one or more! They can be small or very large or everything in between. Some are open all week and some only a few hours for a few days. Fortunately the have all their information at the Kirkens Koshæer website.
My personal favorites are 2 large stores close to each other. One in Them, one the outskirts of Silkeborg, which is also a great smaller city to visit. Plenty of shopping as well as their own Georg Jensen en Bang & Olufsen stores (see below).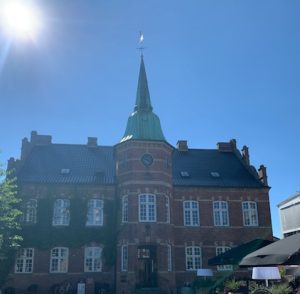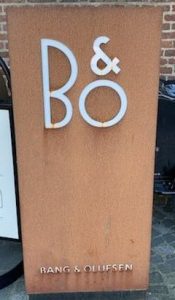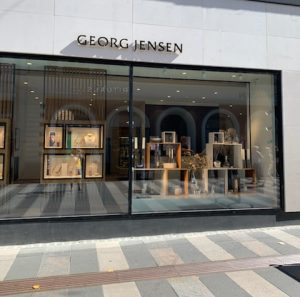 Aarhus is a great city as well, one of the largest cities after the capital Kopenhagen, which I did not visit. In Arhus there is a beautiful art museum called ARoS which I can highly recommend (see picture below for the colorful rooftop boardwalk). But if you prefer vintage manly stuff…there also is a viking museum!

while walking through Århus I ran into 2 vintage stores opposite each other. Both very small but full of good stuff. One had a vintage design ceiling lamp model PH5 (by Poul Henningsen) that was to big to fit the backpack. But they also had some cool Stelton stainless steel items, designed by Arne Jacobsen (cylinda line) as shown below which were more my size.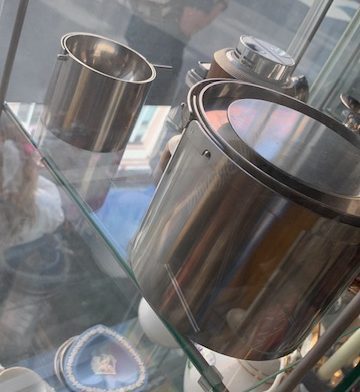 My vintage picks from Denmark
So short and simple. It was a whole lot functional design I ran into. Below my favorite items. Amongst also 2 DIWA slide rules. This was a smaller company and you only encounter these every now and then. Even in Denmark I could find only this couple.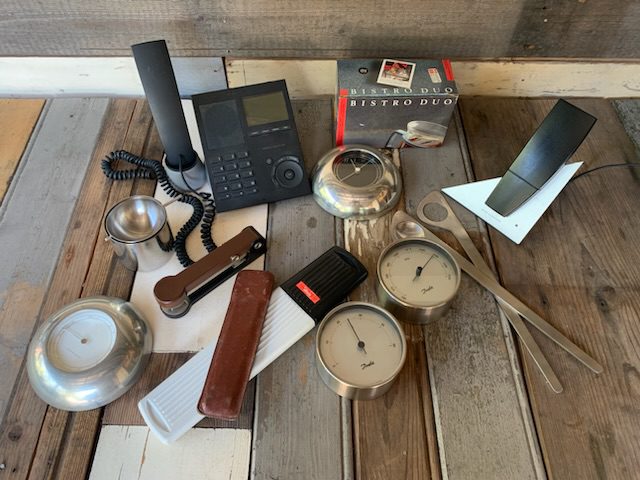 Shown above are a wall clock and thermometer by Georg Jensen (black and white) with silver plated case as well as a stainless steel signed set by Danfloss, a production company for various technical items such as home radiators. The salad set and ashtray are by Arne Jacobsen for Stelton, the phones are by Bang & Olufsen and the stapler is Danish design by Henning Andreasen model Folle 24. So I was pretty stocked with plethora of Danish Design!