Before we went almost entirely digital and left no more paper made paper trail we all used to have one. There is a certain pulling you in when you encounter one of these. Unfortunately you see them less and less on a desk. So if you see one…please restrain yourself and do not start hitting it for it might just become the next collecting hit for they are a real wanna-have or in this case…wanna-touch and hit it! The mechanical vintage stapler.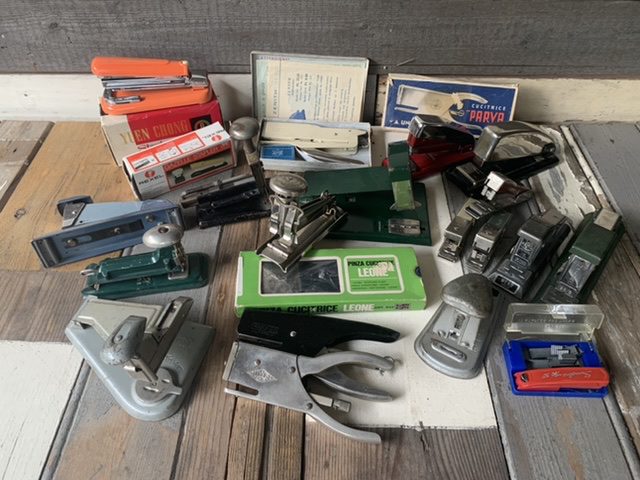 Build to take a punch!
Children who see one for the first time instinctively know! Perhaps they do not know what it is for but they sure know it is something that should be hit, pounded or squeezed. And if all it good, you even receive a little metal present in the form of curled stapled. This is why they are build the way they are build…so they can take abuse over and over again leading to a high quality build. The vintage stapler is often even over-designed and overbuild to last a lifetime.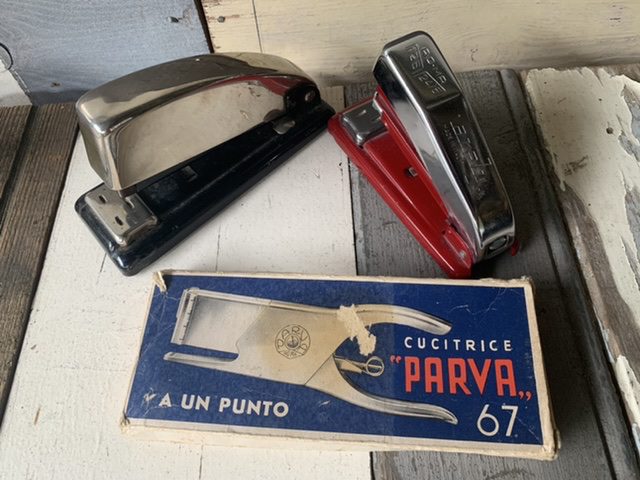 Since nobody could guess when we would stop using paper, and in 1890, why would anyone guess that this great invention that paper was, would ever be obsolete? So a good punchable stapler should be build to last a 100 years at least. This way you can easily tell if you are holding a vintage high quality build stapler or a later redesign from the 1980's. Because Plastic does not last and flimsy metal can bend or go bad under constant strain….but the vintage beauty just show signs of use. Above you see some stapler from Italy that do not even show their use over time. Instead of a painted top, these have nickel plated tops that are even more resistant to wear than an industrial painted surface. The green one below (a Zenith stapler from Italy) is a great example of a stapler that shows it has been used through time.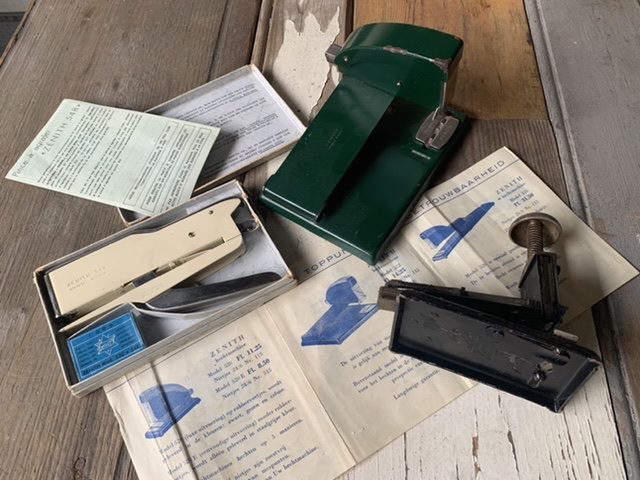 Different vintage stapler types, brands and sizes
Through time the shape of the stapler evolved. From the early 1930's ones like the top one below, a very ornate one with a top knob to hit (Elastic Sphinx 83 from Germany). In the USA they invented the ACE Clipper 702 (on the right), which can be used without a hitting surface and is a bit like slinging a gun, where the round guard prevents it from easy dropping. To even the a side step like the stapler that does not use staples, the below one is a so called Bump from the USA.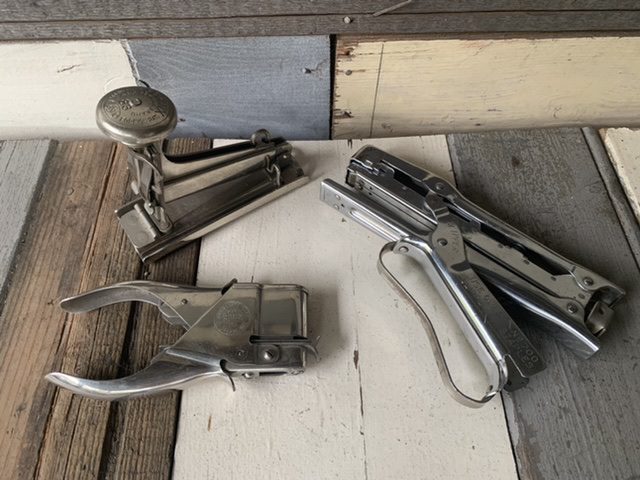 Over time, staples were produced in different sizes for different tasks and because the industry could at a certain point. This meant staplers also got different sizes to follow staple size. And even mini staplers were produced, as a gimmick for marketing reasons or just to be able to have one ready in your pocket while on the move.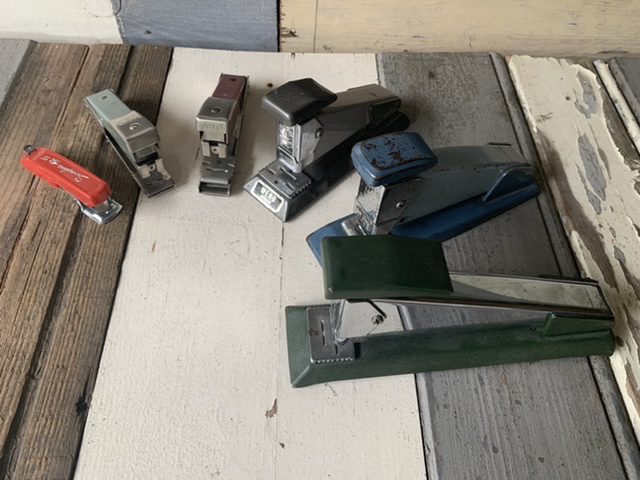 Then there were colors. These colors were practical to keep different staplers apart but also a way to distinguish yourself as a certain brand or just to follow fashion! It is hard to tell the age of a stapler just by it's color but an orange or yellow one can be a nice indicator for the second half of the 20th century. Earlier colors shown below. The one on the far left is plastic. Plastic staplers are often later and from an era that was more about fashion and function than about the form or quality.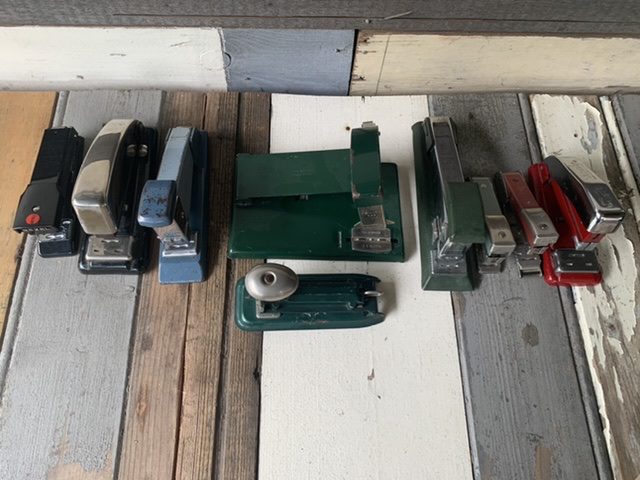 There are many brands all over the world, I would just like to name a few here of which can be found here at VintageManStuff because of their build quality and their manly appearance!
ACE – USA
Arrow – USA
Bostitch – USA
Bump – USA
Elastic – Germany
Folle – Denmark
Jaky – France
Yuen Chong – China
KIN – Czechoslovakia
Novus – Germany
Rapid- Sweden
Ro-Ma – Italy
SAX – Austria
Tachikawa – Japan
Zenith – Italy
Some notes on collecting vintage staplers
So when reading this because you are already a stapler enthusiast or might even think about buying one or more, I will try to give some pointers on where to look for in a good vintage stapler. First of all…just buy one you really like..the color or form or the amount of wear…your choice. And something to take in consideration…trying to find it in the original box. This box often holds some paperwork on the company and / or on the different staplers they were also selling in that time frame. I personally like the vintage art work! See below.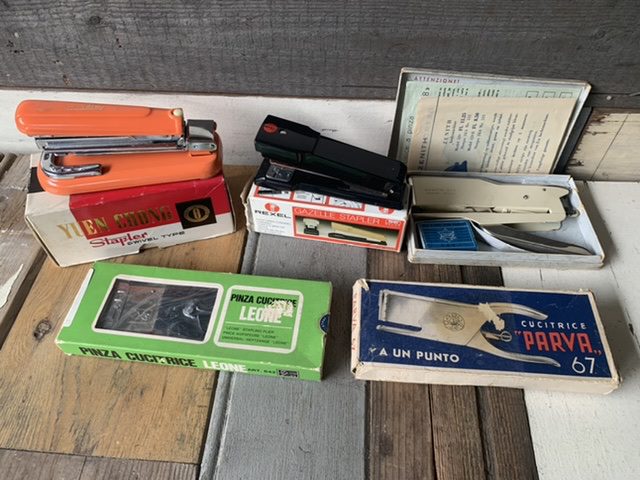 ROMA Parva 67 stapler Box instructions Italy 1950
Zenith 548 stapler Box instructions Italy 1950
Yuen Chong 369 stapler China 1960
Leone stapling Plier Pinza cucitrice 64 in box 1960 Italy
When you find one to your liking, then there is the technical bit. Make sure your stapler is complete and all original, just in case you want to use it or play with it. In the picture below you can see different ways to open a stapler to fill it with staples. Sometimes the little pusher that holds them in place can be missing, specially when it can be taken out. The earlier ones (pre 1950's) can be incomplete or have a non fitting part on them. Also check if the operate smoothly. It is always nice to get some staples with it but you can find most size online, personally I do really care about the staples because I like them for what they are!
Then if you want to be collecting, try to choose a brand, model type or era. Below picture shows different models of the pincher type. Personally I like the odd ones.
Picture above shows staplers made by Rapid, the desk type in all it's sizes, as well as different branded ones but with clearly the sase build, emanating from the Swedish Rapid factory. You choose and have fun with these tacit wonders that are real children of the 20th century and show development, history and craftsmanship as most vintage collecting areas….this is just one that most collectors still need to discover. Have fun!
For some more beautiful pieces, check out the Smithsonian Institute Learning Lab display!