Slide rules are a field of collecting in their own right, read the article Great vintage collection : slide rules, for general information on this calculation aid. In this article I will be looking into the smaller specimens, the pocket slide rules. Not the most common used regular sized ones, but the pocket sized versions between 6,5 – 15 cm or 2 1/2 – 6 inches.
Some history on this smaller slide rule
Every time something new gets invented, especially with technology, mankind is obsesses with making it better. Which often means….smaller. Which we can see in the transition from tech like mechanical watches from mantel piece to pocket to wrist size. In computes from room filling to handpalm size and in cars from carriage size to micro car. It seems since pockets were invented, mankind wanted to make stuff that fit in it.
The first sliding calculator aids were large. Larger was better. The longer the slide rule, the more calculation (additional scales) or more exact calculations (longer scales) could be made. Also on round version there was room for longer schales then on a straight slide rule. Not unexpectedly the first small circular slide rules looked like pocket watches, specially in size, ca. 6,5 cm or 2 1/2 inches  in diameter as shown below.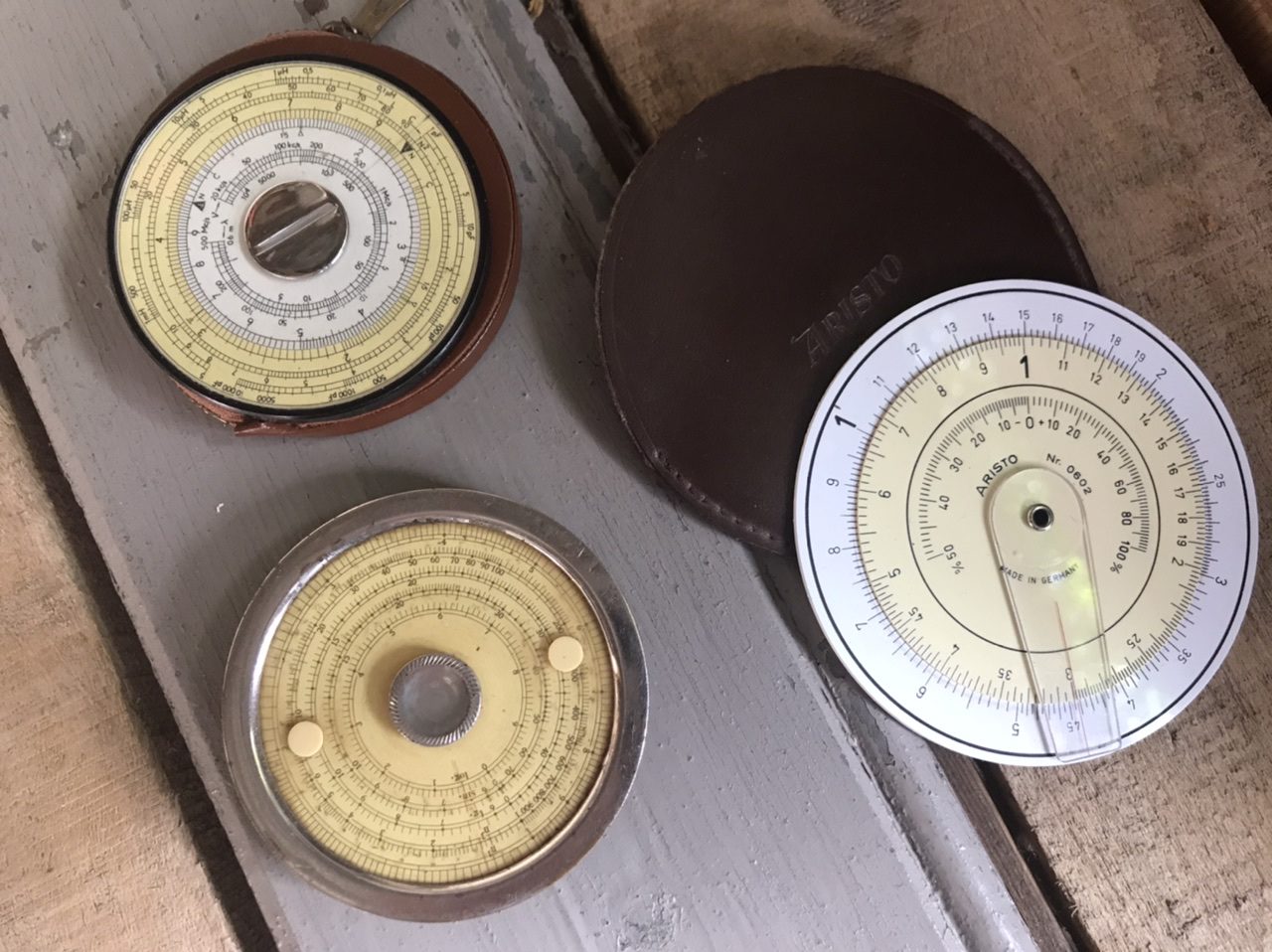 ALRO circular Slide rule case Muiderkring 1960 Holland
Molter Mid - Late circular slide rule pocket watch 1925 Germany
Aristo 0602 small circular slide rule sleeve 1960 Germany
The oldest one with chromium plated case was made by Molter from Germany around 1925. Even the materials used were the same as in pocket watches. The somewhat larger one is made by Aristo for simple and quick calculating of percentages. The one on top is made by ALRO from The Netherlands and is the smallest one I found. More information on this company and it's slide rules can be found in the article : Great vintage collection: circular slide rules from Holland by ALRO.
Most users also seem to have favored the straight slide rule. These were also often the ones used in classrooms so this shape is what most people got acquainted with as kids. Probably the reason why straight slide rules outnumber their round counterpart. The above picture shows slide rules from various brands like Nestler and  Faber-Castell from Germany, Graphoplex from France and Sun Hemmi from Japan and the yellow Pickett from the USA. Yet Aristo from Germany made the most variation, which will be looked at closer below.
Aristo pocket slide rules in many variations
It seems that Aristo (Dennert & Pape) from Germany was one of the producers with the greatest variation in slide rules during the 20th century and part of this great variation were a lot of pocket sized slide rules. These slide rules were often smaller version of a standard 25-35 cm or 10 – 14 inches models, redesigned into a 6,5 – 15 cm or 2 1/2 – 6 inches versions. Which catchings names like the Aristo Picollo and Arisot Puck.
Aristo 810 Puck mini pocket slide rule full set NMIB 1970 Germany
Aristo 845 Commerce pocket slide rule full set 1970 Germany
Aristo 869 StudioLog pocket slide box pouch 1970 Germany
Above showing some interesting small to very small models as complete sets. These pocket size models were taken very seriously and were made in the same way and with the same quality standard as their bigger family members. The more complex there large counterparts, the more complex the pocket sized ones. They also always came with a leather sleeve, outer box and manual making these as handsome and useful as well. I fully understand why a collector would focus on these small versions rather then on the regular sized ones!